West African Leaders Are Haunted by a European War
Russia's invasion of Ukraine is threatening the hold on power of the presidents of two small nations almost 4,000 miles away.
In Liberia, food shortages and surging prices have seen protesters throng the streets of the capital, Monrovia, and support for President George Weah, a one-time world footballer of the year, is ebbing. In neighboring Sierra Leone, similar complaints led to deadly riots.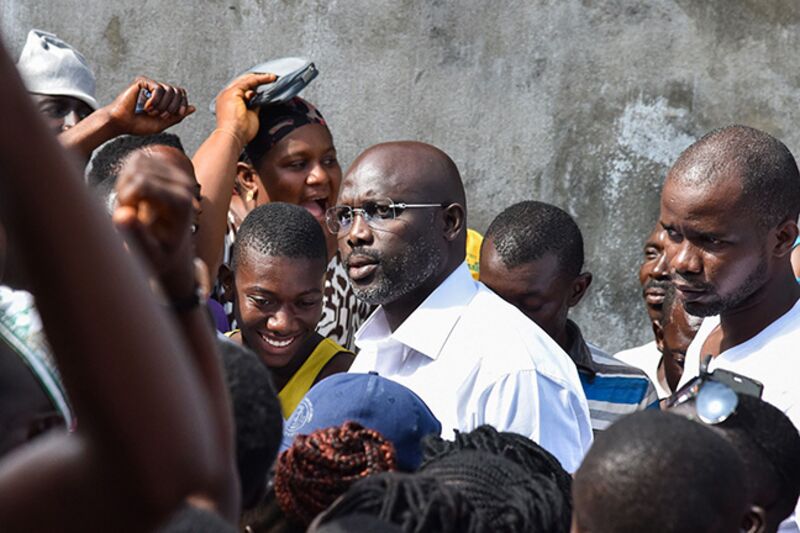 Weah will seek a second term in elections in October while his counterpart in Sierra Leone, Julius Maada Bio, faces a vote in June.
The about 12 million citizens of the two nations are right to be angry. They rank among the most food-insecure countries in Concern Worldwide's latest Global Hunger Index — Sierra Leone at 112th and Liberia 113th of 121.
The war in Ukraine choked off supplies of wheat from that country and its invader to the global market. That forced up prices of other staples such as the rice eaten by most inhabitants of the two African nations as substitutes for wheat are sought.
Liberia Is Due to Hold Elections on Oct. 10
And they aren't alone in feeling the impact of Russia's invasion, but they've also done little to make the countries that lie in a fertile belt of coastal West Africa self-sufficient.
While Sierra Leone used to export rice, it hasn't decades. Liberia has doubled its rice production since 1960 but it's eating five times as much of the staple as it was 60 years ago.
"Our weather is perfect, but yet we wait for people in Asia to grow rice before we eat," said Clarence Moniba, a presidential aspirant in Monrovia, who in an interview with Bloomberg bemoaned the country's imports of everything from pepper to beef.
News & Opinion
Heavy fighting and shelling in Sudan has sparked a race to evacuate foreigners after cease-fires failed to hold. Sudan's army and a rival paramilitary group are facing mounting international pressure to stop the fighting that has claimed hundreds of lives since it erupted last weekend. International efforts to broker a truce have stalled, with mediators unable to access the North African country, while water, healthcare and other services are becoming increasingly hard to access. The US is positioning its troops for a potential mission to evacuate embassy personnel. Read here about what's behind the battle, here for an opinion piece on the conflict and listen to our Next Africa podcast on the crisis.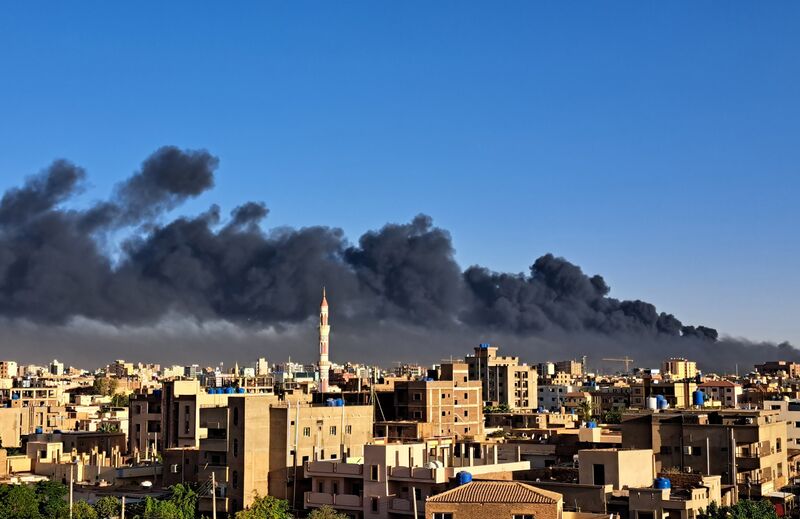 South African President Cyril Ramaphosa's approval rating plunged more than eight percentage points to 41% in the nine months through March amid the worst power cuts the country has seen, surveys showed. The country has suffered blackouts of over 10 hours a day, inflation has remained stubbornly high and the performance of state-run companies has deteriorated. Meanwhile, a plan by power utility, Eskom, to bypass pollution controls at one of its biggest coal-fired plants may kill hundreds of people.
There was progress this week toward a long-awaited debt-restructuring deal for Zambia, sources say. Official creditors, co-led by China, will gather again next month and may sign a memorandum of understanding. Zambia has been struggling to seal an agreement to revamp $12.8 billion in external loans since becoming Africa's first pandemic-era defaulter in November 2020. The International Monetary Fund is holding up payment of $188 million to the southern Africa nation until the committees strike a deal.
Uganda's president rejected a proposed law providing for harsher sanctions against gay people, including the death penalty and life imprisonment. Yoweri Museveni asked lawmakers to amend the bill to include amnesty for those denouncing same-sex relationships and to delete a provision that stipulates penalties for those who don't report people in same-sex relationships to the authorities. Read here about how the East African nation is pursuing a draconian anti-LGBTQ law despite warnings it may deter foreign aid and investment.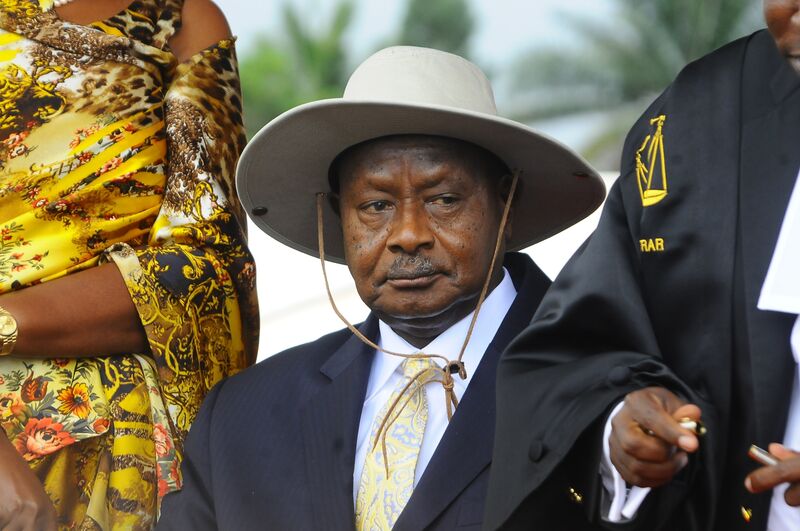 A senior Nigerian minister urged the country's president to end a long-running dispute with Eni and Shell to allow the companies to finally develop a prized deepwater oil license. Investigations and lawsuits relating to the energy giants' acquisition of the permit 12 years ago should be halted so Africa's largest crude producer can "take advantage of the fast-disappearing opportunities in the global oil exploration industry," Attorney General Abubakar Malami wrote in a letter to the president, seen by Bloomberg.
A Chinese mining company made a breakthrough in a long-running spat over mining royalties in the Democratic Republic of Congo, potentially paving the way for its massive stockpile of battery metals to start flowing to global markets. The heart of the standoff had been state miner Gécamines's claim that the CMOC Group was lying about its mineral reserves, and that it owed Congo $7.6 billion in royalties and interest.
Past & Prologue
Data Watch
South Africa posted a surprising acceleration in inflation to 7.1% in March, raising chances the central bank will raise interest rates again, after last month's unexpected 50 basis point hike.
Namibia deviated from South Africa's monetary policy move by raising borrowing costs by only a quarter percentage point to 7.25%. Namibia is in a currency union with South Africa so generally follows its neighbor's adjustments.
Africell is launching new financial services in Angola, after investing more than $150 million to build out its mobile-phone network in the country and attracting 7 million customers since it started operating there last year.
Industries Driving Ghana's Fourth Quarter Economic Growth
A leap in output from the mining and telecommunications industries helped Ghana's economic growth beat expectations in the final three months of last year. That's despite the West African nation struggling to resolve a debt crisis and contending with inflation that peaked at more than 50% and some of the highest borrowing costs in the world.
Coming Up
April 25 South Africa's central bank leading economic indicator and biannual monetary policy review, Anglo Platinum results
April 26 South African producer inflation data for March
April 27 Zimbabwe inflation for April & trade balance for March
April 28 Kenya and Uganda inflation for April, South African money supply data, budget & trade balances for March, Botswana interest-rate decision
Quote of the Week
"Our country has suffered serious injury, where the killed and the wounded have fallen, families have been displaced, and homes destroyed," Abdel Fattah al-Burhan, the leader of Sudan's army, said in a speech on Thursday. "We are confident that we will overcome this ordeal."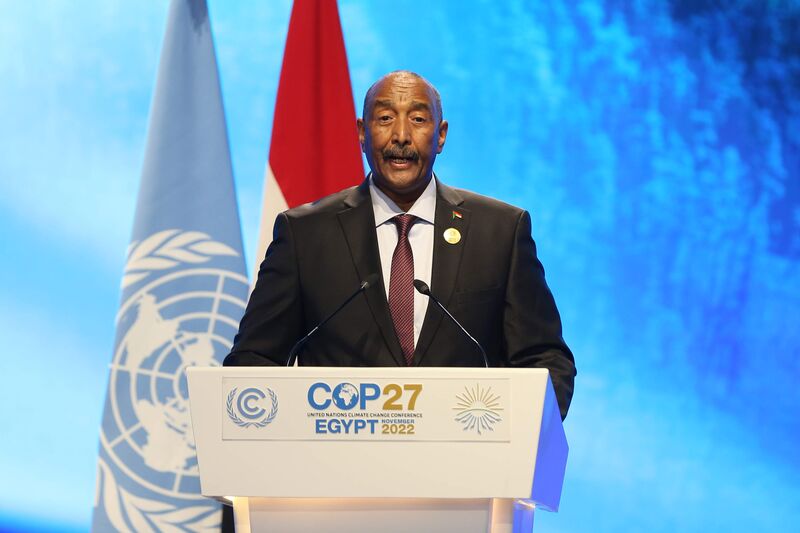 Last Word
Five months after pulling a planned initial public offering, South African medical cannabis company Cilo Cybin plans to try again — this time with the backing of Malaysian biotechnology firm ALPS Global. Cilo Cybin is the first South African company to win the right to grow, process and package cannabis goods, and will make different products for ALPS that focus on wellness, biotechnology and medical services. Its initial attempt to list failed after capital raising was slower than anticipated and negotiations then began with ALPS, which says it's valued at about $1.3 billion. A special purpose acquisition company will be used to buy Cilo Cybin's existing pharmaceutical unit, which cultivates cannabis strains with high levels of tetrahydrocannabinol, or THC, the main psychoactive chemical in marijuana plants. One of those is Durban Poison, a strong strain of cannabis that's well known locally.
Source: Bloomberg