Unlocking Success: Insights from the African Startup Scene to Thrive as a Founder in Africa
It's no secret that Africa is quickly becoming a global startup powerhouse. With a growing population of educated, tech-savvy entrepreneurs, the African startup scene is bursting with potential. But what does it take to survive and thrive as a startup founder in Africa? What challenges will you face, and what strategies do you need to be successful? In this article, we'll explore the African startup scene from the perspective of founders who are navigating its unique terrain. Get ready to learn all about what it takes to start a business in Africa and the amazing opportunities that await.
Overview of the African Startup Scene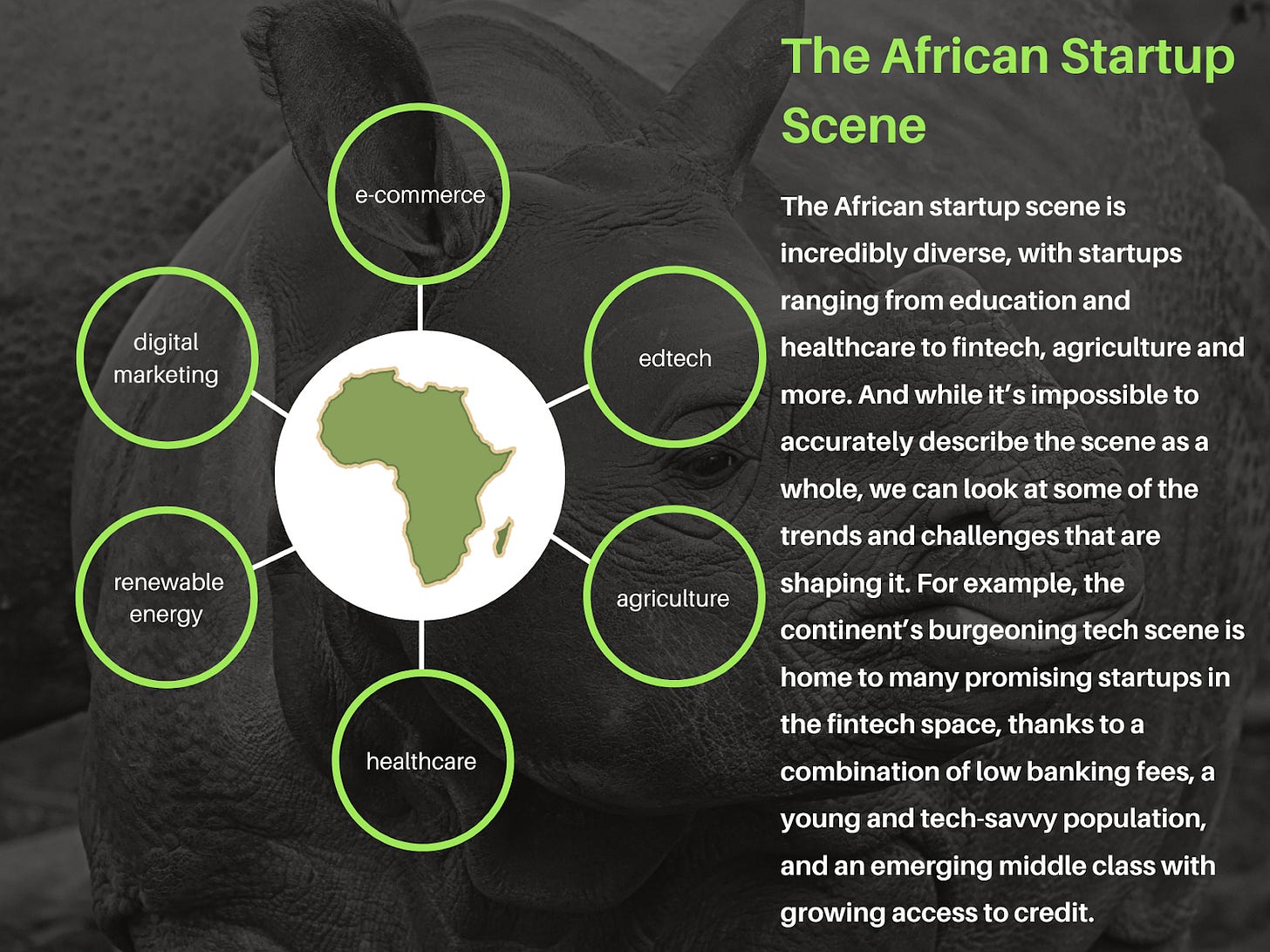 The African startup scene is incredibly diverse, with startups ranging from education and healthcare to fintech, agriculture and more. And while it's impossible to accurately describe the scene as a whole, we can look at some of the trends and challenges that are shaping it. For example, the continent's burgeoning tech scene is home to many promising startups in the fintech space, thanks to a combination of low banking fees, a young and tech-savvy population, and an emerging middle class with growing access to credit. Accompanying this growth in tech is a rise in demand for talent in a variety of areas. In addition to opportunities in fintech, you'll find thriving startup communities in digital marketing, e-commerce, edtech, renewable energy and more. However, despite the progress that has been made and the promise of what lies ahead, the African startup scene still faces many challenges.
Thanks for reading The Untold story of an African Founder Newsletter! Subscribe for free to receive new posts and support my work.Subscribe
Challenges of Starting a Business in Africa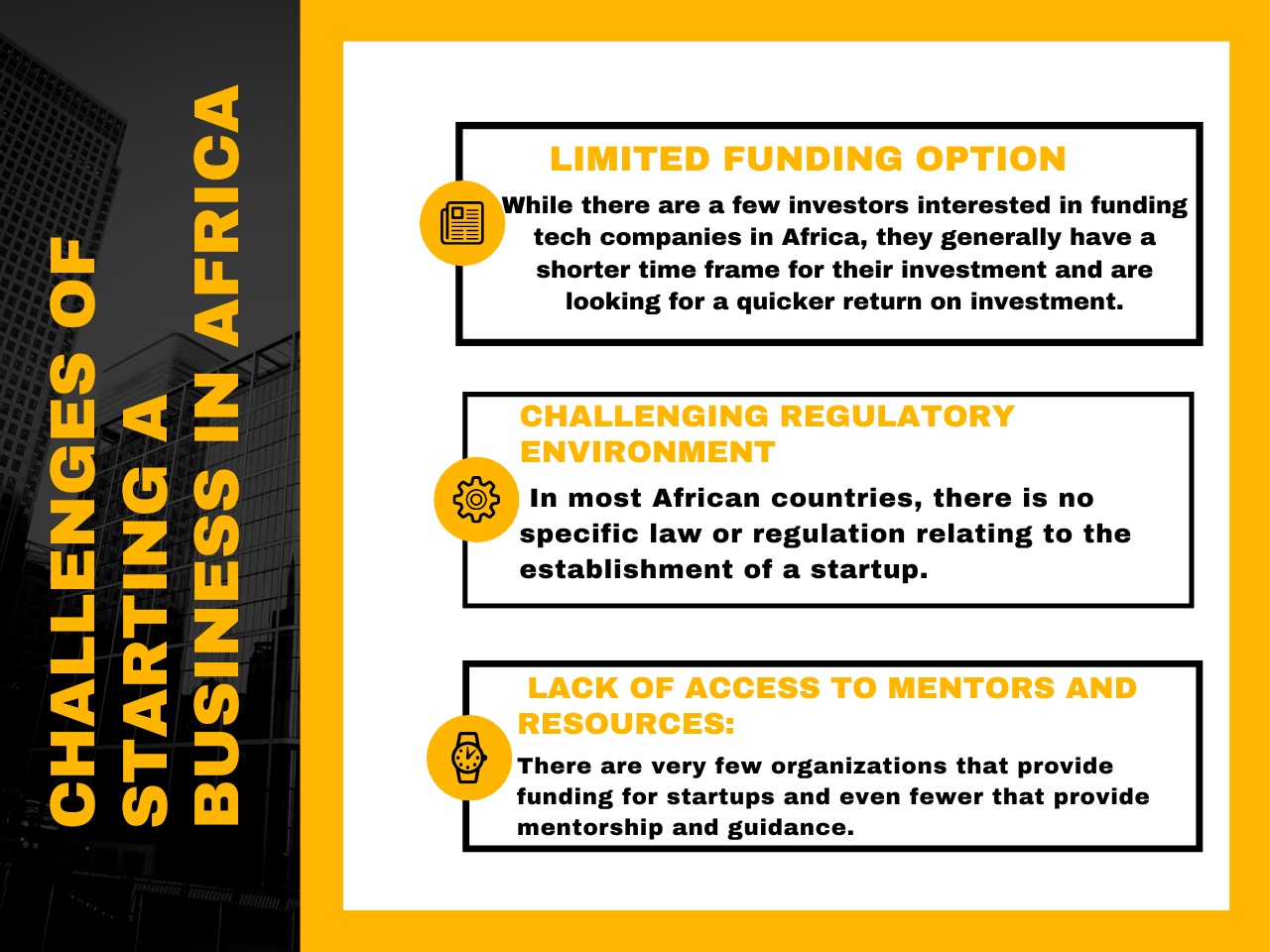 There are a number of challenges associated with starting a business in Africa, including limited funding options, a challenging regulatory environment and a lack of access to mentors and resources. You can overcome these challenges with careful planning and a commitment to persevering through the ups and downs of entrepreneurship. Limited funding options: If you're planning on getting funded via venture capital or an equity-based crowdfunding platform, you may find yourself with few options in Africa. While there are a few investors interested in funding tech companies in Africa, they generally have a shorter time frame for their investment and are looking for a quicker return on investment. This can make it difficult to find the funds you need for long-term growth. Challenging regulatory environment: One of the biggest challenges in starting a business in Africa is navigating the regulatory environment. In most African countries, there is no specific law or regulation relating to the establishment of a startup. This makes it challenging to set up a legal business in Africa. Lack of access to mentors and resources: Another challenge of starting a business in Africa is the lack of access to mentors and resources. There are very few organizations that provide funding for startups and even fewer that provide mentorship and guidance. This means you may have to go it alone and find resources online or through conferences and meet-ups.
Strategies for Overcoming Common Challenges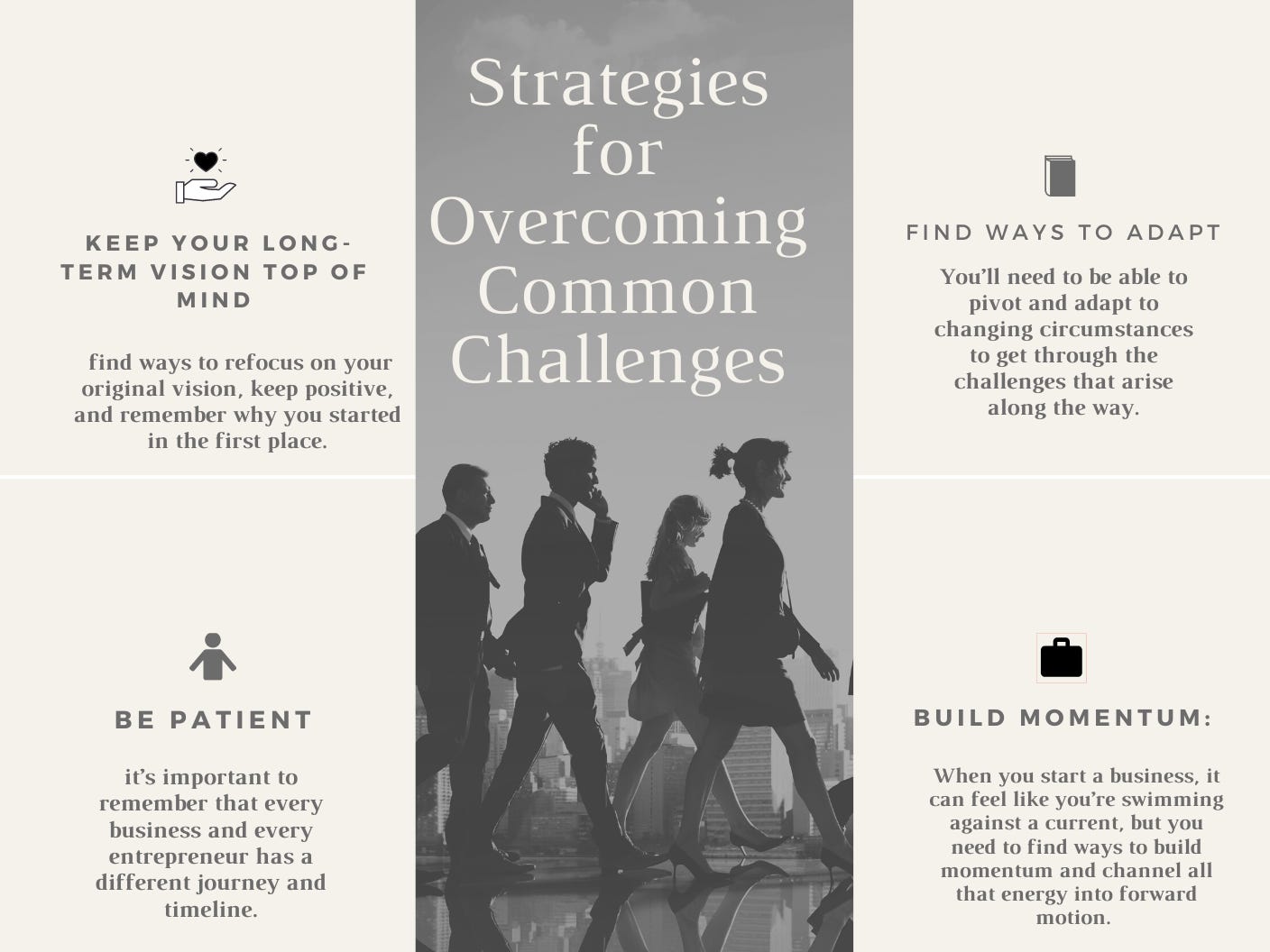 To overcome these challenges and succeed as an entrepreneur in Africa, you'll need to find ways to adapt, build momentum and resourcefulness, be patient, and stay committed to your long-term vision. Here are some strategies you can use to get started: Find ways to adapt: The best entrepreneurs are flexible and understand that the road to success is rarely a straight line, so they're willing to make adjustments when they're needed. You'll need to be able to pivot and adapt to changing circumstances to get through the challenges that arise along the way. Build momentum: When you start a business, it can feel like you're swimming against a current, but you need to find ways to build momentum and channel all that energy into forward motion. Whether you find a co-founder, join a local entrepreneur meet-up, or find mentors online, you need to find ways to reach out and connect with others who can help you get started. Be patient: Starting a business is a long journey, and you'll need to be patient with yourself and your progress. It's easy to get caught up in comparing yourself to others and thinking that you need to move faster. But it's important to remember that every business and every entrepreneur has a different journey and timeline. Stay committed to your long-term vision: Finally, you need to keep your long-term vision top of mind and remember why you started your business in the first place. It's easy to get frustrated when things don't go as planned, and it can be tempting to change your original vision. Instead, find ways to refocus on your original vision, keep positive, and remember why you started in the first place.
The Benefits of Doing Business in Africa
There are many benefits to doing business in Africa, including a large and growing population, a rising middle-class, and increased internet and mobile phone usage. Africa is also a diverse continent with different cultures, languages, and business practices in each country. This diversity can be both a challenge and an opportunity, as it means that your business will need to be tailored to a specific market. Large and growing population: There's a large and growing population in Africa, and that population is becoming increasingly tech-savvy as internet and mobile phone usage grows. This means that there are more people who may be interested in your products and services, which can help you grow your business. Rising middle-class: A growing middle-class can bring more opportunities for your business. As more people earn more money, they have more discretionary income to spend on products and services. This can provide a great opportunity for entrepreneurs looking to start a business in Africa. Increased internet and mobile phone usage: As more people get access to the internet and mobile phones, there are more opportunities for entrepreneurs to build successful products and services. There are also more opportunities for people to work remotely, which can be especially helpful for entrepreneurs who are based in Africa.
Finding the Right Mentors and Resources
To start building your network, you can find online forums where you can connect with other African entrepreneurs and discuss everything from challenges to best practices. You can also attend conferences and events where you can network with industry leaders and other entrepreneurs. Most importantly, you need to be authentically engaged and stay connected with these people even if they're not necessarily in your industry. You never know when you might have the opportunity to share your knowledge and experience with someone in a completely different field. This can be especially helpful if you don't have many people in your field to reach out to for mentorship. You can also look towards universities and local incubators for resources and support. Universities are often great places to find mentors who can help you navigate the challenges of entrepreneurship. You may also be able to find support from local incubators and organizations that are dedicated to helping entrepreneurs succeed.
Investing in Your Business's Growth
When you're first starting out, it's important to be mindful of your spending and not spend too much beyond your means. While it's important to be fiscally responsible, it's also important to find ways to invest in your business's growth. Here are some ways you can do that: Join a co-working space: One of the best ways to invest in your business's growth is to find a co-working space where you can go to work on a daily basis. Not only will this help you to stay focused and creative, but it can also give you the chance to network with other people who are working on their own businesses. Join an incubator or accelerator program: If you need support and mentorship to help you get your business off the ground, you may be able to find it through an incubator or accelerator program. Many incubators and accelerator programs are tailored to support entrepreneurs in emerging markets like Africa. There are numerous incubator or accelerator programs in Ghana you can apply. Hire freelancers: Although you may want to hire on additional employees at some point, you can start by hiring freelancers to help with your marketing, design, and other areas of your business. This can help you to save money while also getting work done that you need to get your business off the ground. You can hire freelancers on Ayagigs.
Understanding the Legal and Regulatory Environment
There are many challenges associated with doing business in Africa, but there are also unique opportunities and benefits. One of the best ways to understand the unique challenges and opportunities of doing business in Africa is to understand the legal and regulatory environment. You can do this by researching the regulatory