Particularly from 2016 onwards, Russia has built up strong relationships with quite a lot of African countries and their leadership. The divide in Africa between pro-Russian and pro-Western countries partly follows the earlier Cold War fault lines, with some interesting deviations.
A first Russia-Africa Summit took place in 2019 (in Sochi). A planned second summit was postponed from October/November 2022 (in Addis Ababa) to 2023 (in Russia). This was announced during the four-African-countries visit of Russia's Foreign Affairs Minister Lavrov in July 2022. That visit to Egypt, D.R. Congo, Uganda and Ethiopia was meant to thank Africa for its support in the UN, and to diminish fears of a food disaster as a result of the Russia-Ukraine war: both Russia and Ukraine have become important suppliers of grain to many countries in Africa (see my earlier blog and listen to this podcast). Lavrov was clearly welcome there, and Lavrov's message in a newspaper article that appeared in African local newspapers is interesting to read. Many Africans are in favour of Russia and during the recent coups in Mali and Burkina Faso many local people welcomed Russia as a saviour. The Russia-Africa summit in 2019 was attended by delegates from all African states and among them were 45 Heads of State. When, after much insistence, Ukraine's President Zelensky was allowed to address the African Union on 20 June 2022, there were only four Heads of Government among those present.
Soviet heritage
The Soviet Union was an important supporter of decolonisation and of African liberation movements, and that is still highly valued in Africa to this day. During the Cold War between the Soviet Union and 'the West', between 1948 and 1990, many African countries opted for a socialist and pro-Soviet Union course: in particular Algeria, Egypt and the United Arab Republic, the People's Republic of Congo, the People's Republic of Benin, Angola, Mozambique, Ethiopia after the revolution in 1974, and Guinea. There was an important link with the Communist Party of South Africa, and with the ANC (read more about the 
Africa-Soviet relations
).
In 1960/1961, the Patrice Lumumba University was founded in Moscow, which was renamed 
University of the Friendship of Peoples
 in 1992. More than 50,000 Africans studied there during Soviet Union times. And although Russia is only part of the former Soviet Union (as was Ukraine), in many African countries, sympathy for the Soviet Union shifted to sympathy for Russia.
A new Cold War in Africa?
Soon after the start of Russia's invasion in Ukraine the division between African countries became clearly visible during the vote, on 24 March 2022, on the UN draft resolution 'Humanitarian Consequences of the Aggression against Ukraine' (UN General Assembly Resolution A/ES-11/L.2): one African country voted against (together with four other countries), twenty African countries abstained (together with 18 others) and six voted with their feet by being absent. Out of 140 votes in favour, only 27 were African. Many observers speak about a 'new Cold War' in Africa, and the divide between pro-Russian and pro-Western countries partly follows the earlier Cold War fault lines, but with some very interesting deviations: if we see 'abstention' and 'absentees' during this UN vote as a sign of a pro-Russian position, Botswana and Morocco (and some smaller countries) seem to have shifted to the pro-Russian side, but Benin and particularly Egypt voted against the Russian position.
Egypt's position
Particularly Egypt's position is remarkable. In the African Studies Centre Leiden's Thematic Map about Africa's international trade in 2017 we already showed how important Russia had become as a grain supplier to Africa and how dependent Egypt had become of Russian grain. Other countries dependent on Russian grain mostly supported Russia, but Egypt decided to vote in favour of the pro-Ukraine position. And Egypt must have irritated Russia also on another front. In 2018 various orthodox churches in Ukraine became one unified church and in May 2022 the Ukrainian orthodox church formally broke with the Patriarch of Moscow. The religious rivalry also had its impact on Africa, where the Patriarch of the Ethiopian Orthodox Church supports Moscow and the Patriarch of Alexandria (Egypt) supports the Ukrainian Orthodox Church (as does the Patriarch of Constantinople, by the way). As the war between Russia and Ukraine also has a religious side (one that does not get a lot of attention in Europe), the position by the Patriarch of Alexandria must have been felt by many Russians as a slap in the face.
Votes during the 24 March 2022 UN Resolution about the Russia-Ukraine war: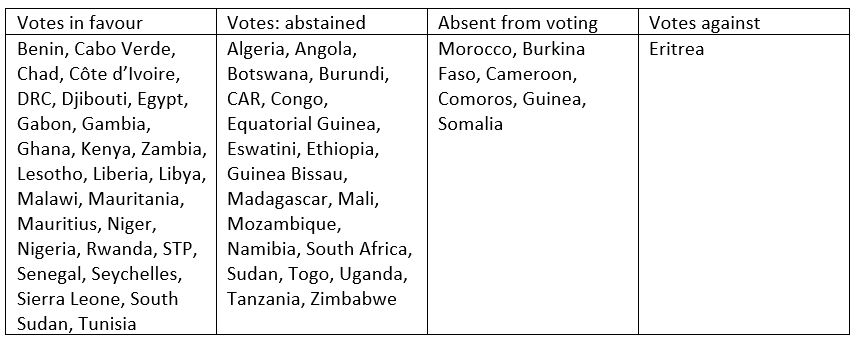 Russia building up African support
After the collapse of the Soviet Union for many years Russia more or less neglected Africa. Africa clearly had a low priority for Russia's new leadership. However, from 2007, and particularly from 2016 onwards one can see a clear Russian policy of building up strong relationships with quite a lot of African countries and their leadership. Russia currently has 40 
embassies
 in Africa as well as six consulates. Russian influence became ever more visible in Russia's growing grain exports to Africa. Until about 2010 the United States (besides France) was the most important wheat barn for Africa; after that, Russia took over that role (while Ukraine also became important, for wheat and maize). Until 2021, some African countries had become almost completely dependent on these two food suppliers (e.g., Eritrea, Somalia). In 2019, Senegal, Egypt, Tanzania and Tunisia were more than 50% dependent on grain imports from these two suppliers, Cameroon, Sudan and Mozambique for more than 40%, and Guinea, Libya, Kenya, Mauritania, Uganda and Nigeria for more than 30%. The declining influence of the United States also has a lot to do with the impact of climate change in what used to be the breadbasket of the world: the Midwest of the USA. Due to drought and high costs, less grain could be supplied to the world market. Russia, on the other hand, is and will be the big winner of the agricultural effects of climate change, with great expansion potential for wheat cultivation towards the far north. The food effects of the Russo-Ukrainian war are not only the result of faltering food exports from Ukraine and Russia, due to logistic and financial reasons, but also of faltering fertilizer exports (Russia is one of the main exporters) and of the increased price of energy, with effects on agricultural vehicles and transportation costs.
Arms contracts
Besides food, military support has become Russia's main influence in Africa. From 2017-2021, Africa imported 44% (other sources even say 49%) of its weapons from Russia; and in 2019 arms contracts had been concluded with 30 African countries. What is also remarkable is the importance of the deployment of private armies and advisers ('private military contractors', PMCs, also called the Russian shadow state, or 'mercenary diplomacy'), especially the Wagner group, with, according to journalistic sources, influence of Putin's confidant Yevgeni Prigozhin. And a lot of African military and intelligence personnel received military training in Russia itself, while South Africa's navy trained together with the Russian navy.
In exchange for (private) military support Russian firms got access to and were allowed to make investments in gold and diamond mines, precious stones mines, mines for the production of rare metals; and oil and gas, as well as nuclear energy programmes (e.g. in Egypt and South Africa). Geopolitically important is Russia's increased access to ports and airports: especially in Libya, Eritrea, Somaliland; Sudan (and with it military influence in the Mediterranean and Red Sea regions); while Russia also acquired access to ports in Mozambique.
Many observers also note the Russian support for Africa's media industry, and what they call large-scale deployment of disinformation campaigns, including via social media. Until March 2022, Russia Today had 22 million subscribers in Africa. And many African students (in 2021 there were 15,000 African students in Russia) learn to speak Russian and become a new generation with pro-Russian attitudes, like their (grand)fathers in the 1960s.
Responses by 'the West'
Until very recently, the interest in Russia's growing influence in Africa was very limited in Europe and the United States, and even after the Russian annexation of the Krim in 2014 many Western diplomats, politicians and journalists ignored the signs of Russia building up a pro-Russian backyard in Africa. Indeed, compared to China, the European Union and also the United States, the Russian economic influence is relatively small: total Africa-Russia trade in 2021 was only $20 billion; 1/10th of Africa-China trade. Only after the start of the Russian war in Ukraine Western journalistic and scientific circles suddenly became interested and showed concerns about what was called 'the disruptive influence' of Russia in Africa and especially its support and strengthening of authoritarian regimes in Africa. Some African countries have come under the influence of Russian forces (especially CAR and Mali) and introducing a crypto currency in CAR ('sango') could become a way to evade sanctions.
In June 2022 the library of the African Studies Center Leiden made an overview of a large number of recent sources on Russia-Africa relations, and on 14 September I was asked to speak during a round table about the effectiveness of sanctions against Russia for Dutch parliamentarians. Internationally, particularly Macron from France and Biden from the USA seem to realise now how important it is to 'win the hearts and minds' of Africans and African leaders. However, Europe should clearly do more than what it has done during the six European Union–African Union summits organised so far (the last one ended two days before the Russian invasion in Ukraine). The postponement of the second Russia-Africa summit to 2023 is a setback for Russia, and a lot depends on further developments in Russia and on the Ukrainian battlefields, but for some time to come Russia can depend on strong African support for Putin's dreams of grandeur, support that has been a result of carefully building up diplomatic, economic, and military ties since 2016, a lot of which was done 'under the radar'.
Source: Ascleiden.nl